Home Store and More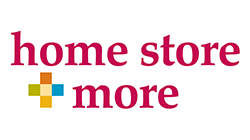 Home Store and More is Ireland's leading independent homewares retailer with twenty stores nationwide by the end of 2016.
Digatech have been providing full IT support and services to Homestore for a number of years. The business also has a thriving online business through its web site www.homestoreandmore.ie
Since opening the first store in 2004, the business has grown steadily and this constant growth has meant the IT requirements have shifted constantly to keep pace with the changing business needs.
From an IT project perspective, some of the major changes and rollouts over the years have been:
Project: Network Infrastructure Refresh, including the following:

Deployment of on-site Exchange Server
Deployment of clustered file server for redundancy.
Deployment of Application Server
Deployment of Active Directory and Group Policy
Project: Deployment of Multi-Site VPN with redundant failover connection.
Project: Deployment of External Application servers in an AD WAN
In addition to solution design and project implementation work, Digatech provide a comprehensive support service based around retail opening hours.
Martin Kantor, Business Development Manager of Homestore and More said, "As a fast growing retail business we are competing hard to constantly striving for excellence in each area of our business operations. Digatech have been our IT support provider for a number of years and they consistently demonstrate that they are experts in the retail IT space. We operate in a demanding environment with a large and growing nationwide store network, and a growing online business. Digatech as our IT provider is helping us to grow fast and be smart about how we invest in IT. I would highly recommend them."
You can share this story by using your social accounts: