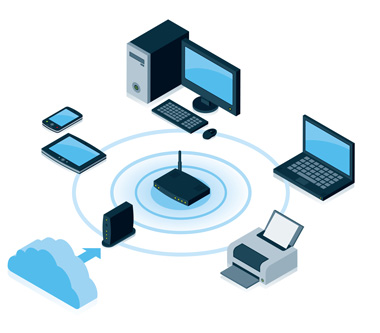 Digatech have been a Wireless LAN supplier in Ireland since its inception. The technology has improved steadily and has now gone from being a nice to have to a must have for most businesses. We understand that a good wireless LAN requires a good wired network underneath it, this is essential for your wireless network to function well.
Digatech provide the entire range of technologies and skills involved,  including: routing, switching, security, WiFi, VoIP, UPS and infrastructure management.
Our comprehensive Wireless LAN solutions provides:
Physical connectivity for the access points
RF expertise
Network connectivity
Network security
Project management.
Digatech have completed full wireless LAN roll outs for many customers, some involving a first time building fit out, others involving the upgrade of an older network. In either case, we design the architecture of the network, project manage the entire implementation and stand by you with ongoing maintenance and support for the long term. You get an end to end service that requires no technical expertise on your side, or if you have an in-house IT team, we work alongside them as an extension of your team.
See our case studies page where you can read how we have installed wireless LAN solutions in store for Vodafone retail outlets, McElhinneys, Brennans Bakeries and Brereton Jewellers.
We use enterprise technology from leading vendors like CISCO, Arista and TP Link to implement wireless LAN solutions.
Call us today on 01-6301420 to discuss your requirements, or email us on marketing@digatech.ie
We can also assist with email hosting, cloud computing, remote support and hardware supply.