GDPR – Data Processors & Data Controllers
So are you a Data Controller or a Data Processor? Don't know? Maybe don't care? In preparation for GDPR, knowing this should be high on the priority list.
The answer to this question will determine the level of responsibility that your organisation has over data under both Irish and EU data protection law. So yes, it's quite important to know! One of the biggest changes being introduced to next years GDPR is the accountability placed on the data processor. For the first time, data processors will be placed under a direct obligation to comply with certain data protection requirements which previously only applied to data controllers.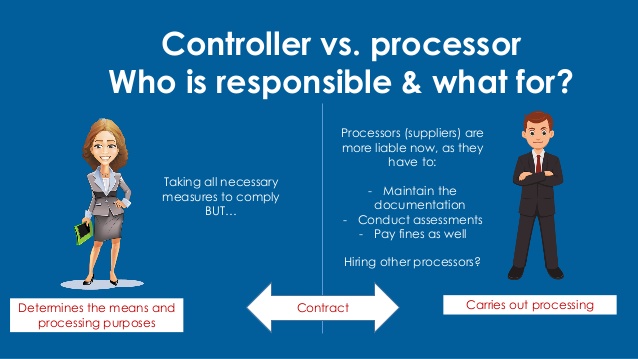 What is a Data Controller?
The correct definition -  'Data controller' means the natural or legal person, public authority, agency or other body which, alone or jointly with others, determines the purposes and means of the processing of personal data. Data controllers can be either individuals or "legal persons" such as companies, Government Departments and voluntary organisations.
Examples of cases where the data controller is an individual include general practitioners, pharmacists, politicians and sole traders, where these individuals keep personal information about their patients, clients, constituents etc.
Real world example of a data controller - a bank who collects and maintains records of their customer when new accounts are set-up.
What is a Data Processor?
The definition - A data processor is anyone who processes personal data on behalf of the data controller (excluding the data controller's own employees). This could include storage of the data on a third party's servers, or appointing a data analytics provider.
Real world example of a data processor - a marketing team who are contracted by company A to send marketing content to their clients. The marketing company in this regard is the Data Processor as they are provided with the data by company A for a specific use.
Click here to take our free GDPR Readiness Assessment and find out how prepared your business is!
You can share this story by using your social accounts: